Family Support
Top Parenting Tips For Parents and Carers During Covid-19 (Resource added 29th June)
Parent Zone (Resource added 8th May)
Parent Zone have published an article with links to websites and organisations that offer help during lockdown, including help and advice with online safety, mental health and online bullying. Click the link below to go to the Parent Zone website.
Where to report and get support during lockdown
Pause (Resource added 6th May)
Please see the flyer below for information on Pause.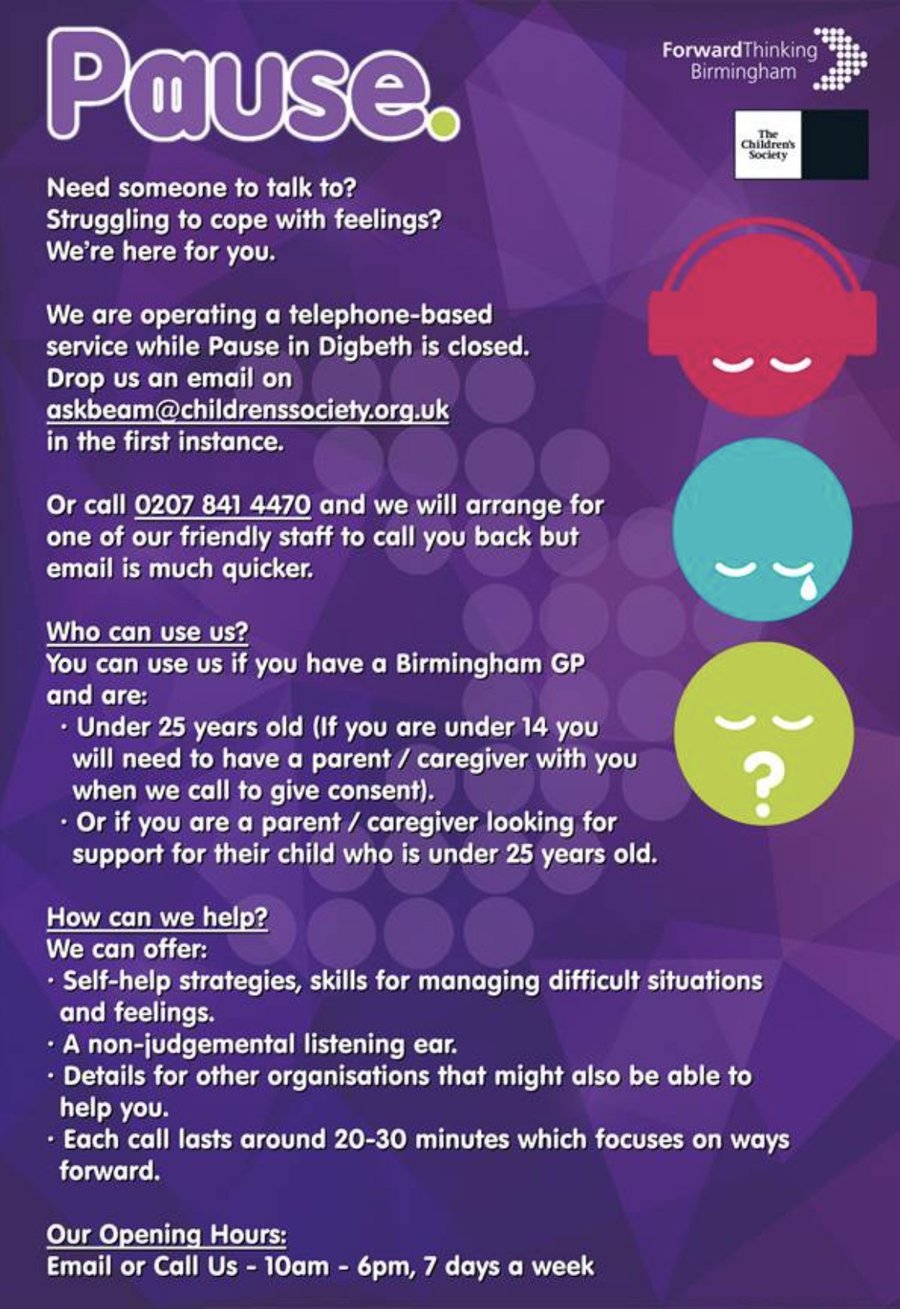 Mental Health Support for Birmingham and Solihull (Resource added 6th May)
You can download or view a flyer below that gives details on mental health support for young people.
Guidance for parents and carers on helping primary school aged children learn at home can be found here:
https://www.gov.uk/guidance/help-primary-school-children-continue-their-education-during-coronavirus-covid-19 (Resource Added 21st April)
The summaries of support document below lists different support services available to families. This includes support for food and supplies, sensory needs, autism, and parent and carer support. You will also find help and advice for parents and carers of children with a physical difficulty below as well as details about the different support networks available. (Resource updated 23rd April)
Attendance for 02.11.19 - 20.12.19
| | |
| --- | --- |
| Class | % |
| 1SC | 86.4 |
| 2RJ | 92.0 |
| 3LD | 92.0 |
| 4SD | 91.4 |
| 5CC | 92.8 |
| 6NS | 93.3 |
| Total | 91.3 |
Our school target is 96%